BIOGRAPHY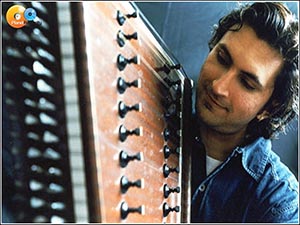 Rahul Sharma has carved a niche for himself in the World of Indian Classical and Fusion World Music, with over 60 released albums spanning a career of 15 years. This young Artiste has experimented with his Music and taken the 100 Stringed Santoor (Instrument which he plays) into various genres from Classical to New Age and World Fusion/electronica.

Having released more than 60 live and studio recordings, some of Rahul's milestone albums are "Music of The Himalayas" which Rahul has recorded for Peter Gabriel's label called Real World Records, primarily based on Folk Music from the region of the Himalayas. Rahul's new age album called "Zen" received the best Instrumental album awarded by MTV IMMIES India.



In 2002 Rahul was the first Indian Musician to record with the highest selling French Pianist RichardClayderman and composed 2 Albums withClayderman called "Confluence" which till date is probably one of India's highest selling Instrumental Albums. Some of Rahul's recent works are his live recording with the tabla percussion wizard Zakir Hussain. In 2011, Rahul released one of India's best selling albums called "Namaste India" with Grammy winner n World renowned Saxophonist Kenny G which also featured the voice of India's leading Actor Amitabh Bachchan. All compositions were done by Rahul. Kenny G plays live with Rahul in this album.

Rahul has recently composed "Rebel" a Santoor Rock Album. "Kashmir" Nature's Symphony with Folk Musicians of Kashmir. "Call of the Valley" – Revisited a thematic instrumental album.
In 2012 Rahul released "Deep India" a collaboration with Grammy winning musician Eric Mouquet of the tribal-electronica group Deep Forest. All the above albums have been best seller's.


Rahul learnt Music and the Santoor from His Father and Guru Pt. Shivkumar Sharma, who is a Music legend in India and the World over. Rahul's FatherShivkumar Sharma was instrumental in bringing this little known instrument the Santoor out from the Valleys of Kashmir and introducing it to the Indian Classical Music World. Today, Rahul not only performs Worldwide, whether it's the WOMAD or EDINBURGH Festivals or performing at The Esplanade in Singapore or the Royal Festival hall in London,the santoor has had quite a journey from folk to classical and now in World/new age and Electronica genres of music.
Rahul has also, successfully given Music to BollywoodFilms with leading Film stars ,In 2002 he was one of the youngest music directors for whom the nightingale of India Lata mangeshkar sang all the songs for Yash chopra's 'Mujhse Dosti karoge' , starring Hritik Roshan-Kareena kapoor!
However, his interest primarily stays with Indian Classical, Fusion and Experimental Music. He is all set to release some major collaborations in the near future and be a fine torchbearer to his Father's Legacy.
Rahul has been awared with

MTV IMMIES best album award for 'Zen'
Best music director at Bollywood Music awards Newyork for 'Mujhse Dosti Karoge'
Bismillah Khan YUVA puruskar etc.